How To SET UP YOUR FAMILY FOR LIFE… By Giving Birth To Your CHILD(REN) In BRAZIL.
Not only will you make a HUGE difference in your child's life, but your spouse, children and you get to benefit from the same privileges that extend to your future generations yet unborn…
Dear Friend,
did you know that as a would-be parent, you can use an available legal means in giving your child a life of tremendous freedom, prosperity, VISA FREE travels and global financial opportunities?
That's not all.
I will explain how you can get a one-year foreign residency, and very importantly, an incredibly exciting second citizenship in as little as 12-months.
Please read on.
You see, one thing you and I can agree on is the fact that we have little or no control over where we are born –no one ever does.
However, if you're a soon-to-be parent… we may have to admit that…
You Have Total Control Over This Important Decision.
​
Most parents don't give much thought to where their children should be born, and that's a huge mistake – because when you pick the right country, you set your child up for an entire lifetime of benefits and privileges.
The child is entitled to unrestricted freedom, comforts of dual citizenship, flexibility and global financial opportunities forever!
There are a number of ways to do this –each one is legal, and hundreds of Nigerians like you are already taking advantage of them.
I'm not talking about the USA here
​
Almost everybody wants to go over to the United States of America (USA) to give birth to their children.
Why?
Because it's arguably still the most powerful nation on earth.
Its currency is stable and used universally, the world over,
and…
​Giving birth to your children over there gives them automatic citizenship.

​But here's A Problem, Two Problems Actually
You need to have not less than $15,000 in a domiciliary account BEFORE you go to the embassy.
But the thing is $15,000 is a lot of money.
With the exchange rate of =N=365 to $1, it is a whooping =N=5.475 million naira (five million, four hundred and seventy five thousand naira)
Not a lot of people can afford that. For most people, it is simply out of their budget.
But even if you can afford it, even if you have the $15,000, these days having the money is not enough. And this leads us to…
Since 2016, after Donald Trump took over as the President of USA, he and his administration have been on an "American First" campaign. He has castigated people from Africa, especially Nigeria calling us a "shithole" country.
And since then, getting a USA visa is really not easy.
Many people are being denied visas to America. The issue is rampant, that Nigeria House of Representatives had to summon the US Ambassador to Nigeria, Mr. Stuart Symington, over the alleged high rate of visa denial of Nigerians.
In fact, the embassy, via a live Facebook talk on April 17, 2019, even had to reach to the widespread criticism by saying as reported here:
Not minding their officially released statement, the truth remains that the Trump Administration unofficially does not want more Nigerians coming to America to give birth to children, whether with money or not.
Now asking, in absence of America's visa,
Where Is The Next Best Options Now?
​
While countries like Chile, Canada, Barbados and Panama are currently on some options to get a second citizenship for your child, but none of them offer what Brazil does.
Of all the countries that offer citizenship by birth, Brazil is unarguably the best place on the planet to have your children…
---
Below are some of my reasons to back up this claim.
#1 AUTOMATIC CITIZENSHIP:
Giving birth to a child in Brazil attracts automatic citizenship.

Every country that offers citizenship by birth does this, Right?

Yes,
But here's what they don't do​
#2 PERMANENT RESIDENCY STATUS:
As soon as your child is born in Brazil, the Brazilian government offers you (the parents) and other children who are under the age of 18, Instant Permanent Residency Status in Brazil.​
Meaning that, at your convenience, you can relocate to Brazil, live, work or do business without restrictions.

Why would they do these?

It is illegal and a violation of human rights in Brazil, to expel a Brazilian parents due to their nationality.
The parents of a child born in Brazil are allowed to stay irrespective of their criminal background, visa status or nationality.
Is that surprising?

It Gets Even Better …​
The parents and sibling become Brazilian citizens within 12 calendar months!​
How amazing that is!

4 Unmatched Reasons to Care About Having a Brazilian Passport​
The magical blue Brazilian passport is a great asset, one of the best travel documents in the world and it doesn't come with much baggage or drama (unlike the U.S or most E.U countries who are constantly embroiled in dangerous global politics)
Visa free or visa-on-arrival access to 146 countries –for life!
Anyone can be Brazilian -black, white, Hispanic… Brazil is arguably the most diverse country in the world… you'll never be discriminated against.
A Brazilian passport and citizenship is an invaluable path towards becoming a global citizen.
Brazil has an unmatched combination of advanced medical facilities and an incredible valuable second passport.
Giving birth in Brazil is an excellent way to set up your entire family for success, but it is also a marvelous opportunity to add a Brazilian passport to your personal life, without unnecessary restrictions.
It is however not enough to know that Brazil is the best option for your child's birth, but how do you access the available privileges for the child and other family members legally?
How can you grab it in the shortest possible time, before the opportunity goes away?​
Here's a list of what you must know while planning to take advantage of this rare opportunity.
How you can immediately maximize the special benefits accessible to you and your child…stress free and with peace of mind.
The best areas of Brazil to live in.
Brazil is one-third the size of Africa. You need to know exactly where to stay cheaply and safely too. Note that popular cities like Rio De Janeiro and Sao Paulo aren't part of it.
​
How to take advantage of Brazil's low-cost, high-quality health care for your child delivery.
Once you've concluded on this, your medical costs would instantly reduced from $15,000 of America's to around $3,000. This amount is if you choose an "expensive" hospital in Brazil.
How to plan your trip, and facilitate a smooth arrival into Brazil –including the safest, most affordable cities to stay, affordable housing, and how to simplify the logistics involved.
What every soon-to-be parent ought to know about pricing and medical fees when giving Birth in Brazil – far too many people are getting ripped off, you shouldn't be one of them.​
How to use a Brazilian passport to access and maintain business interests globally.​
​
How to solve the language problem (they speak Portuguese) in an instant.
You will be amazed at how simple the solution is.
​
What you should expect before, during and after the birth of your child – and, how to save costs by preparing adequately…​
​
The absolutely essential documents (as of July, 2019) you need to obtain in Nigeria before attempting to process your Brazilian Visa – Forgetting anyone of it can kiss your Brazilian dreams goodbye. Note: this does not include your Passport​.
​
The few, relatively simple conditions you need to satisfy to get your Brazilian citizenship in one year…. And how to get started.
Why the so called "Global citizenship experts" are dead wrong about second citizenship…
And, why Brazil still offers a level of comfort, livability and passport quality unmatched by any other country in the world right now – You'll begin to see why the U.S and most so-called "top-tier" countries are a joke.
​
How to lock in your child's citizenship.
Many parents make a mistake with this and delay it for months. You must follow the process step-by-step as I describe, otherwise you'll bungle it and you don't want that.
​
The most important thing Brazilian immigration officers conveniently neglect to tell you about processing your permanent residency papers and why knowing about this issue ahead of time will save you months of back and forth.
​
Why "sovereign men and nomad capitalists" are keeping their lips shut about the little-known economic advantages of living in Brazil and, how you can tap into it for massive financial opportunities in minimum time.
And so much more.


---
This of course, isn't the complete story of everything you need to know about Brazil's fascinating citizenship program and how you can take advantage of…
The super-exciting Lifetime benefits available to you, your children and generations unborn.
That would take volumes.
The research and planning involved may sound very complicated, but it's not.
Don't let it scare you… Brazil's citizenship and residency programs are by far the simplest to process if you know how.
You want to make absolutely certain that you're armed with the right, up-to-date information.
The good news is, you need not worry about how to do this without getting stuck or falling into the wrong hands.
Why?
Because, through several months of painstaking research; and working with my co-author Maria Arlington, all the answers you seek have been answered in detail, and compiled into a report that is easy to read and easy to understand.
Who is Maria Arlington?
She is a Brazilian wife and mother who lives Rio De Janeiro, Brazil.
She is working with me and my family to give birth to our own child in Brazil.
When I decided to create this report, I knew I needed someone with intimate knowledge of how the Brazilian birth and citizenship process worked, not someone with fake information on Nairaland, or some outdated website on Google.
So I contacted her.
She provided the most up-to-date, on the ground information you will read inside our report.
And we call it…
​

The Brazil Citizenship Report
There's a whole lot more in Chapter 1 and 4 – proven strategies and nomad-capitalist ideas that will leave you no excuse whatsoever to not start enjoying the comforts and graces of a free, flexible and totally sovereign life.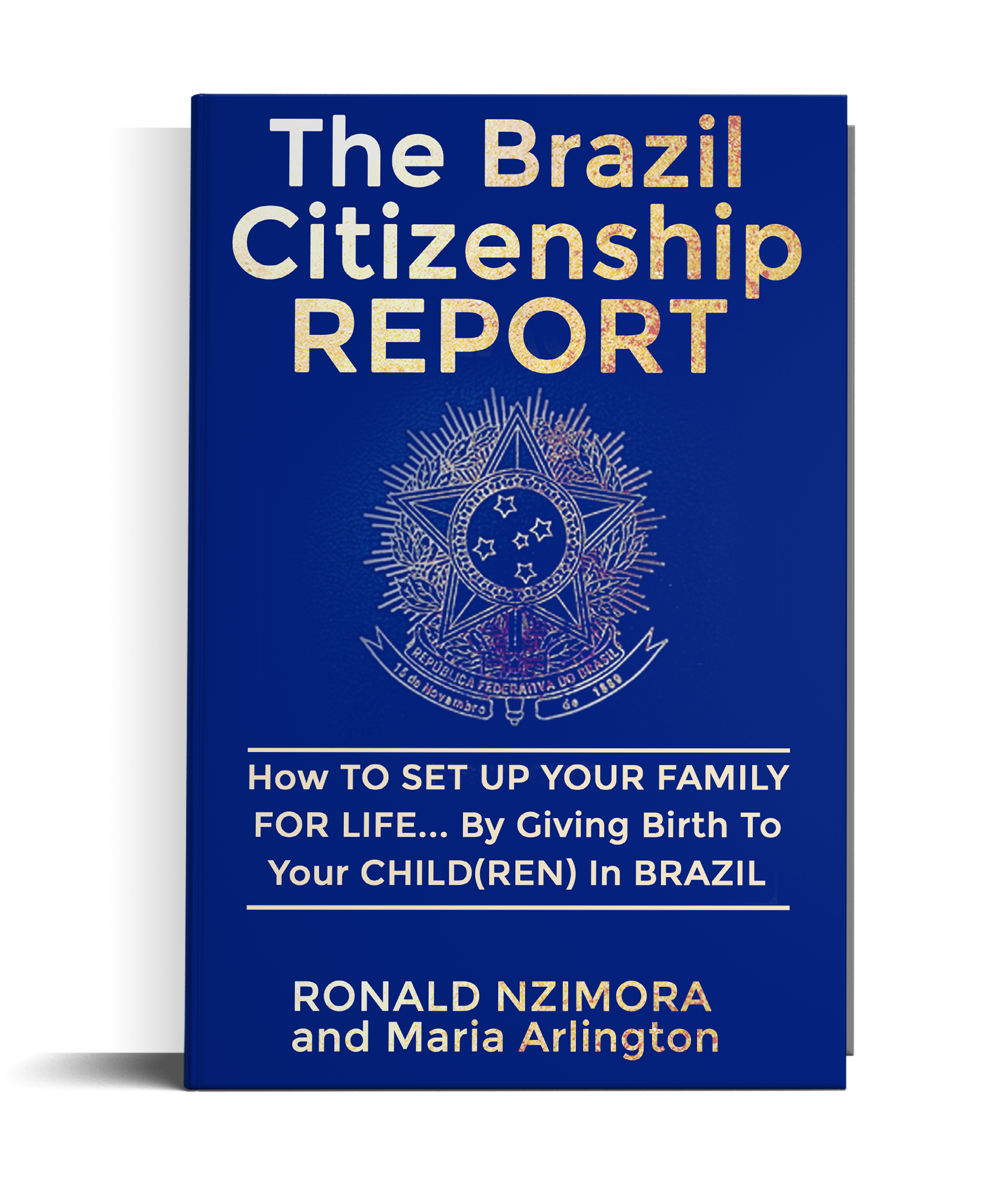 ---
The invaluable information you'll find in this material is not available in bookstores, and has never before been published between the pages of any single website or book.
Although this report can mean hundreds and perhaps, thousands of dollars to you in benefits, it is priced at just N12,000 only.
This is a special introductory price for you, but the price will most likely go up to =N=40,000 as demand increases which is what we truly believe it is worth.
Right now, you have the opportunity to get this amazing report for a one time cost of N12,000 only
This actionable report is specifically tailored to how you can increase your family's freedom, safety and prosperity using Brazil's incredibly generous citizenship program.
Get "The Brazil Citizenship Report" For Just N12,000 right now, study it and follow the steps outlined for you, your relocation (temporary or permanent) to Brazil will exceed your wildest dreams.
But you need to take that first step…
All it takes is the click of a button.